Goldenvoice presents
Cypress Hill Haunted Hill
with Mariachi El Bronx & Meyhem Lauren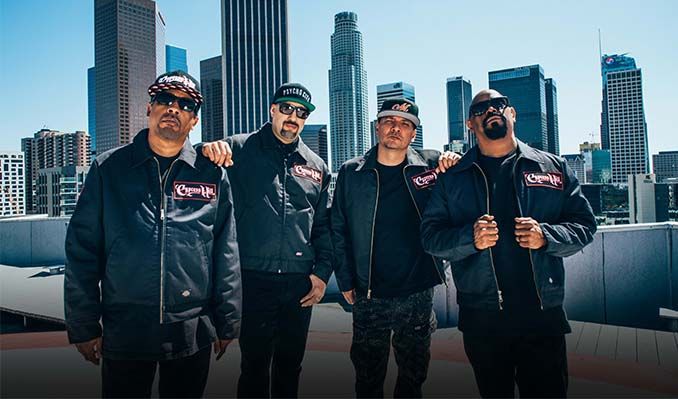 share
Artist Information
Three decades ago, B-Real, Sen Dog, and DJ Muggs of Cypress Hill sparked a trip that left popular culture stoned, stunned, and staggering in anticipation for more. In 1988, the trio certainly didn't look like any other hip-hop collective, sound like anything on the radio, or smoke like any homie, headbanger, hasher, or hippie. Instead, they rolled up intense rhymes, hard rock attitude, smoked-out psychedelic production, and Latin swagger into a one-of-a-kind strain on the legendary double-platinum Cypress Hill in 1991.
Not to mention, they made history as "the first Latino American hip-hop recording group to go platinum."
Next up, 1993's Black Sunday bowed at #1 on the Billboard Top 200, earned a triple-platinum certification, garnered three GRAMMY® Award nominations, and became "the highest Soundscan recording for a rap group at the time." The platinum Cypress Hill III: Temples of Boom followed in 1995 as 1998's Cypress Hill IV went gold. In 2000, they merged heavy metal and hip-hop like no other on the platinum Skull & Bones with iconic assists from the likes of Eminem, Deftones, and more. Stoned Raiders [2000] and Til Death Do Us Part [2004] emerged on its heels, while Rise Up [2010] scored a Top 10 debut on the Billboard Top 200. Along the way, they sold over 20 million albums, packed venues around the globe, and embedded themselves in pop culture as immortalized by a star on the Hollywood Walk of Fame in 2019 and getting animated for an episode of The Simpsons. They would also be sampled by everyone from JAY-Z and Black Eyed Peas to A$AP Rocky and Vic Mensa with Chance the Rapper.
Among countless hits, VH1 dubbed "Insane in the Brain" one of the "100 Greatest Songs of Hip Hop." Also, who could forget the trailer for Denzel Washington's Academy® Award-winning turn in Training Day soundtracked by "Rock Superstar?" It would also certainly be fair to say the bilingual "Latin Lingo" broke down doors for "Bodak Yellow" and "Despacito." Additionally, the guys waved the flag for legalization and cannabis culture from the onset of their career and via the highly successful Smokeout Festival brand.
However, some things don't change, and Cypress keep forging ahead. That brings us to the group's ninth full-length studio album, Elephants On Acid. Comprised of a 21-track-interlude mix, this opus plays out like a rap odyssey around the world, through other dimensions, and back to the hood. For as far as the vision stretches, the union of B-Real, Sen Dog, and Muggs felt familiar in the best way possible. Muggs commenced collating possible ideas for a new record as early as 2013. After dreaming of an out-of-body experience as a man with an elephant head, the vision percolated for the producer. At the same time, he crafted beats around the world, recording in Egypt between spending time alone in King Solomon's Tomb, making beats in Jordan after floating in the Dead Sea, and experiencing Joshua Tree with third eye wide open. Bringing these ideas back home, B-Real and Sen Dog added their respective truths via one hard-hitting verse after another on tracks like the single "Crazy," "Band of Gypsies," "Stairway to Heaven," and more. Longtime percussionist Eric "Bobo" Correa contributes drums to "Locos" and remains a key force in the touring lineup. The legendary Mix Master Mike will also join the group on tour—both he and "Bobo" notably logged separate stints with Beastie Boys and now will be with Cypress. In the end, Elephants on Acid represents all things Cypress through and through. — Rick Florino, July 2018
Read More
*Service and handling fees are added to the price of each ticket.
Wed, October 30, 2019
8:00 PM

All Ages